My Organic Produce Club Weekly Food Share:       
A watermelon is the Lycopene Leader among fresh produce. In addition to its healthy properties and effects on women, children, men and pregnant women, watermelon is an important part of a healthy diet. Nutritionists have long appreciated the health benefits watermelon provides. Watermelon not only boosts your "health esteem," but it is has excellent levels of vitamins A and C and a good level of vitamin B6. A two-cup serving of watermelon is also a source of potassium*, a mineral necessary for water balance and found inside of every cell. People with low potassium levels can experience muscle cramps.
Ingredients
2 cups watermelon puree
1/2 cup chunked pineapple
1/2 cup vanilla yogurt
3 cups ice
2 tablespoons cream of coconut
Instructions
Mix all ingredients together in a blender. Blend until desired consistency and serve. For an adult version add rum!
Servings
Makes 4 to 5 cocktails.
| | |
| --- | --- |
|  Produce List for the week of June, 04-06 2012: | |
* Lettuce Romaine Green (NC)
* Carrots
* Greens Collards
* Squash Yellow (Fl)
* Artichokes
* Tomatoes Roma
* Bok Choy Baby
* Corn Bicolor (Fl)
* Ginger
* Pepper Yellow
* Avocado Hass
* Potato Baby Sweet
* Pears Packham
* Sugar Baby Watermelon (Fl)
* Bananas
* Apples Granny Smith
* Lettuce Endive 
                "The Florida Growing Season is nearing an end, except…
                 Avocado season is just starting. So, get ready!"
Originally from Mediterranean area, endives are known from ancient times and they were planted by the Greeks, Romans and Egyptians. The thick leaves can be consumed. Besides this, endives have also some medical properties.
Endives contain essential amino acids, fats, starch, potassium, calcium, iron, magnesium and B1, B2, C, K and P vitamins.
If you love salads fresh from the garden, make sure you get endive. It is the basis of some of the most elegant salads.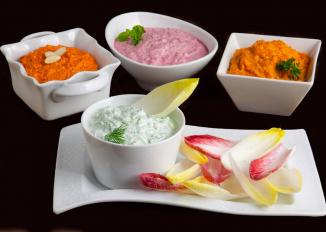 Fashionably slim endive (pronounced on-deev) spears with their intriguing bittersweet flavor make a crisp dipper for an array of colorful dips. Kids love endive's juicy crunch, especially when scooping up "pretty in pink" raspberry dip. And, each endive "slimmer dipper" has just one calorie.
Romesco Dip
Makes about 2 cups, serves 8 to10
4 tablespoons extra-virgin olive oil
1 tablespoon roughly chopped garlic
1 cup garlic croutons
1 (16-ounce) jar roasted red peppers, drained
1 cup roasted almonds or hazelnuts, peeled or whole
2 teaspoons Spanish pimentón (sweet smoked paprika), or paprika
1 teaspoon hot red pepper sauce (optional)
2 tablespoons red wine vinegar
Salt to taste
Combine 2 tablespoons of the olive oil with the garlic in a small pan and cook together until the garlic is fragrant but not browned, about 1 minute. Cool, then combine the garlic mixture with the remaining ingredients and chop finely in a food processor. (If using salted nuts, rinse lightly and drain, and do not add more salt.) Season to taste with salt and serve with endive spears.
Carrot-Orange Dip
Makes about 2 cups, serves 8 to 10
1 pound carrots, peeled and sliced
3/4 cup frozen orange juice concentrate, defrosted
3 tablespoons extra-virgin olive oil
2 tablespoons peeled and chopped fresh ginger
1 teaspoon ground cumin
1/2 teaspoon ground cinnamon
Salt and freshly ground black pepper
Combine the carrots, orange juice concentrate, olive oil, and ginger in a medium pot and bring to the boil. Reduce heat to low and simmer 20 minutes, stirring occasionally, or until the carrots are very soft. Cool to room temperature. Combine carrot mixture with remaining ingredients and chop finely in a food processor. Season to taste with salt and pepper and serve with endive spears.
Cucumber-Yogurt Dip 
Makes about 2 cups, serves 8 to 10
1 medium cucumber, preferably seedless, peeled and grated
1/4 teaspoon salt
1 cup plain Greek yogurt
1/2 bunch scallions, thinly sliced then chopped
1 clove garlic, minced (optional)
2 tablespoons chopped fresh dill, or 2 teaspoons dried dill
Freshly ground black pepper to taste
Mix cucumbers with salt and marinate 15 minutes at room temperature, or until liquid comes out of cucumbers. Drain cucumbers, gently pressing out excess liquid. Combine with remaining ingredients and serve with endive spears.
Raspberry-Yogurt Dip 
Makes about 2 cups, serves 8 to 10
1 cup walnuts
1 cup frozen raspberries, defrosted and drained
1 cup plain Greek yogurt
1 tablespoon fresh lime juice
1 teaspoon finely grated lime zest (green part only)
2 tablespoons honey
2 tablespoons confectioners' sugar
Place walnuts in the bowl of a food processor and process until finely ground. In a large bowl, fold together the ground walnuts with the remaining ingredients. Serve with endive spears.
Organic Produce Buying Club Weekly Food Share