Local Organic Produce 
Best Organic Food Delivery Store To South Florida!
 Organic Food Delivery Store: Boca Raton, Boynton Beach, Coconut Creek, Coral Springs, Davie, Deerfield Beach, Delray Beach, Fort Lauderdale, Hallandale Beach, Hialeah, Hollywood, Jupiter, Kendall, Miami, Miami Beach, Palm Beach, Parkland, Pembroke Pines, North Palm Beach, Pompano Beach, Wellington, Weston, West Palm Beach…
Delivery Schedule – 

Tuesday & Wednesday

No Membership Fee, No Commitment & No GMO!
| | |
| --- | --- |
|  Organic Food Store Grocery List For South Florida | |
* Happy Holidays-Green Tea Gift
* Red Leaf Lettuce
* Green Curly Kale
* Red Beets
* Carrots
* Eggplant
* Avocado 
* Celery
* Tomatoes
* Fresh Herbs-Cilantro
* Green Beans
* Mushrooms Cremini
* Ginger
* Apples Honeycrisp
* Red Grapes
* Limes
* Bananas
* Mandarins Satsuma 
| | |
| --- | --- |
| Schedule Your Organic Food Store Delivery: 877-832-8289 | |
FEATURED ORGANIC
LEAFY GREEN
We invite you to join the food savings at 30% off "Organic Supermarkets" and shop for more than just organic produce!
Gluten-Free Organic Blueberry  Muffin
Gluten Free – Dairy Free  
Fresh Baked Muffins Only $3 Each
Ingredients: Organic Gluten Free Flour, Organic Eggs, Organic Sugar, Organic Coconut Milk Organic Blueberries.
Gluten-Free Organic Carrot Muffin
Gluten Free – Dairy Free – No Nuts 
Fresh Baked Muffins Only $3 Each
Ingredients: Organic Gluten Free Flour, Organic Eggs, Organic Sugar, Organic Coconut Milk, Organic Carrots.
Low Gluten Baked w/Wild Yeast $6
German 5 Grain – all organic ingredients: flax, pumpkin & sunflower seeds, stoneground wheat & rye, extra virgin oliveoil

Pumpernickel – organic stoneground wheat & rye, unsulfured molasses.

Vermont Sourdough – organic rye –

very low gluten

.

Kalamta Olive Bread – organic stoneground wheat & olives
Farm Fresh Organic Eggs $6/dzn
Fresh From Florida Farm Raised Chicken $5.95/lb
1 Whole Bird – 3lbs Average Weight    Learn More…
Fresh Florida Farm Raised Chicken Quarters $4.95/lb
2 in a package – 2lbs Total Average Weight    Learn More…
Fresh Chilean Sea Bass $19.95/lb
Cooks Perfectly Every Time!
Fresh Florida Black Grouper $19.95/lb
Rare & Seasonal, Rated #1 Best Florida Fish
Local Florida Red Snapper $15.95/lb
They taste is sweet and juicy. Comes with the skin on, scaled & boned, they pan-sear perfectly!
Fresh Local Wahoo $12.95/lb
Rare & Seasonal, like Tuna but healthier
Fresh Atlantic Salmon $12.95/lb
No Coloring or Antibiotics added. It's the Best Salmon on the Planet!
Fresh Florida Mahi Mahi $12.95/lb
Fresh Dolphin in Season.  It's Juicy on the grill or sauteed!
Florida Jumbo Gulf Shrimp $12.95/lb
Rare & Seasonal, the biggest local shrimp taste great!

Organic Ribeye Steak $22.95/lb
Whole Approximately Weight/Cost  12oz/$17.00 One of the more flavorful cuts of natural grass fed beef. Its marbling makes this very good for slow roasting and it also goes well on a grill cooked to any degree. Natural Grass Fed Beef is much lower in fat and tastier too!
Organic Sirlion Tips $12.95/lb
Whole Approximately Weight/Cost   2-3 lbs/$30.00 An extension of the T-bone and Porterhouse steaks, Sirlion Tips meat is officially part of the short loin section, where Filet Mignon comes from, a wonderful cut of meat that grills to perfection. Natural Grass Fed Beef is high in Omega 3!
Organic Ground Sirloin $8.95/lb
Approximately Weight/Cost  1lb/$8.95  – No Added Fat  Natural Grass Fed Beef is high in Omega 3!
Braised Bok Choy & Goji Berries
If you can't find Bok Choy, mustard greens or broccoli rabe is a really good substitute. 
Ingredients
1/2 lb bok choy or mustard greens, stems and center ribs discarded and leaves coarsely chopped (4 cups packed)
1 garlic clove, finely chopped
1 tablespoon extra-virgin olive oil
1/3 cup water
Preparation
Blanch bok choy or mustard greens in a 4-quart heavy pot of boiling salted water 1 minute. Drain greens in a colander and wipe pot dry.
Cook garlic in oil in pot over moderate heat, stirring, until pale golden, about 30 seconds. Add greens and water and simmer, partially covered, stirring occasionally, until tender, 5 to 6 minutes. Sprinkle with some Goji Berries and season with salt and pepper.
Cranberry Orange Relish
Sweet, Tangy & the perfect pair for turkey!
Ingredients
12 ounces fresh cranberries
1½ cups sugar
1 cup toasted pecan halves
11 ounces  oranges
½ teaspoon allspice
¼ cup port
Instructions
Combine all ingredients except port in a medium saucepan over medium low heat.
Cover and cook, stirring occasionally, until most of the cranberries have "burst and released their juices, about 10 minutes.
Add port, stir completely and chill.
Fennel, Fig and Beet Salad
With Cranberry Sage Dressing
Ingredients
Cranberry-sage dressing
1/2 cup extra-virgin olive oil
1/2 cup finely chopped shallots
1 cup fresh or frozen cranberries (thawed if frozen)
1/4 cup balsamic vinegar
1 teaspoon chopped fresh rosemary leaves
1 fresh sage leaf, chopped
1/3 cup water
1 tablespoon maple syrup
1/2 teaspoon sea saltSalad
1 pound fresh beets
1 fennel bulb, trimmed and halved
Extra-virgin olive oil, for drizzling
Sea salt and freshly ground pepper
1/2 cup pecans
1/2 pound baby arugula
1 pear, cored and thinly sliced (optional)
6 fresh figs, cut into wedges
Dressing preparation1. Heat 2 tablespoons of the olive oil in a large sautee pan over medium heat. Add the shallots and sautee until softened (about 5 minutes). Add the cranberries and continue to cook, stirring, until they are softened and begin to pop (about 5 minutes).2. Set aside to cool, then transfer to a blender. Add the vinegar, rosemary, sage, water, maple syrup, salt and the remaining 2 tablespoons of olive oil and process until smooth.Salad preparation3. Preheat oven to 350 F (175 C).4. Wrap the beets in aluminum foil and put them on a baking sheet. Put the fennel on a separate baking sheet, cut side up, drizzle with olive oil and season with salt and pepper.
5. Roast the beets and fennel in the oven until fork-tender (about 30 minutes for the fennel, and 50 to 60 minutes for the beets).
6. When cool enough to handle, peel the beets and cut them into thin slices. Cut the fennel into very thin slices.
7. Meanwhile, spread the pecans on a baking sheet and bake until lightly toasted (about 5 to 8 minutes).
8. Put the arugula in a large bowl; add the beets, fennel, pecans and optional pear, and gently toss together. Drizzle with the dressing and scatter the figs over the salad.
[/dropshadowbox]
Eggplant & Garlic Stirfry
Stir Fry or Curry loves Eggplant!
This simple eggplant recipe is aromatic and flavorful, and the generous amounts of fresh garlic make it extra healthy. You can add tofu (extra firm) if you like. This eggplant recipe makes a terrific side dish that can also be made vegetarian. It also works with any type of eggplant – whatever is fresh and available where you live. You can also adjust the spice level in this eggplant recipe, taking it anywhere from mild to spicy hot, according to your liking. ENJOY!
Prep Time: 8 minutes
Cook Time: 10 minutes
Total Time: 18 minutes
Organic Food Ingredients:
1/2 cooking onion (purple onions work well for this recipe)
6 cloves garlic, minced
1-3 red chillies (including seeds), depending on how spicy you like it
1 Chinese (large, with dark purple skin) eggplant, or 2 (thinner, with light purple skin) Japanese eggplants, or just baby eggplants
1/4 cup water for stir-frying
2-3 Tbsp. oil for stir-frying
roughly 1/2 cup (or more) fresh basil
2 Tbsp. soy sauce
SAUCE:
1 Tbsp. fish sauce OR 1+1/2 Tbsp. soy sauce
2 Tbsp. oyster sauce OR vegetarian oyster sauce, OR Vegetarian Stir-Fry Sauce (Lee Kum Kee brand)
1 tsp. brown sugar
1 tsp. cornstarch mixed with 2 Tbsp. water (mix until cornstarch is dissolved)
Preparation:
First, prepare sauce by mixing together all sauce ingredients except cornstarch. Prepare the cornstarch and water mixture in a separate cup or bowl. Set both aside.
Chop the eggplant up into bite-size pieces (be sure to leave the peel on – this is where most of the nutrients are).
Place 2-3 Tbsp. oil to a wok or large frying pan over medium-high heat. Add the onion, half of the garlic, chilli, and eggplant. Reserve the rest of the garlic for later.
Stir-fry for 5 minutes. When the wok or frying pan becomes dry, add a little of the water (a few Tbsp. at a time) – enough to keep the ingredients frying nicely.
Add 2 Tbsp. soy sauce and continue stir-frying for 5 more minutes, or until the eggplant is soft and the white flesh is almost translucent. Add a little more water when the pan becomes too dry (up to 1/4 cup).
When the eggplant is soft, add the rest of the garlic plus the sauce. Stir fry to incorporate.
Lastly, add the cornstarch/water mixture. Stir well so that the sauce thickens uniformly (this will only take a minute or less). Remove from heat.
Taste test the eggplant for salt. If not salty enough, add a little more fish sauce. If too salty, add 1 Tbsp. lime juice (or substitute 1 Tbsp. lemon juice).
Now add 3/4 of the fresh basil, stirring briefly to incorporate.
Slide onto a serving platter and sprinkle the rest of the basil over top. Serve with jasmine rice. Enjoy!
Cauliflower & Black Tahini Dressing
Raw Vegan & DEEEElicious!
Tahini Salad Dressing:
1 tablespoon Organic Black Tahini; 2 tablespoon Organic toasted sesame oil, 2 tablespoons EV olive oil; 3 tablespoons fermented soy sauce or Braggs Essebtial Amino Acid; 2 tablespoons rice, apple cider or white wine vinegar; 3 tablespoons water. 1 diced shallot
Preparation:
Cut up the cauliflower and add some sprouts.  Pour dressing over salad and serve.
Raspberry Dandelion Salad
Good for you and delicious too!
Salad:
8 oz. organic mixed greens or Dandelion greens
1/2 cup fresh raspberries
avocado, cubed
red onion, chopped
organic pecans, sliced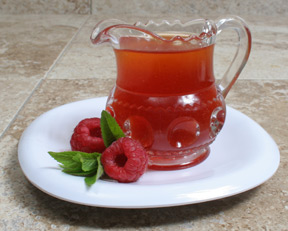 Dressing:
4 T. cider vinegar
4 T. maple or agave syrup
1 T. Dijon mustard
1/2 cup organic olive oil
1/4 cup fresh berries
salt & pepper to taste
Preparation:
Salad:
Make the dressing following the directions below and set aside
Wash the greens and drain well
Wash the berries, drain well
Toss together with the cubed avocado, chopped red onion, and sliced pecans.
Just before serving. toss the dressing with the salad.
Dressing:
Whisk together the vinegar, maple syrup, & mustard.
Blend in the berries using a Magic Bullet or whisk until pretty smooth.
Gradually whisk in the oil.
Season with salt & pepper to taste.
Toss into your favorite salad ingredients.
Dandelion & Shrimp Pasta
It's Macaroni Time!
Kosher salt
1/4 cup extra-virgin olive oil
6 large cloves garlic, thinly sliced
1/4 cup pine nuts
12 oz. dandelion greens, trimmed and cut into 2-inch lengths (about 6 cups)
1 pound peeled shrimp
1 Tbs. balsamic vinegar
Freshly ground black pepper
12 oz. gemelli or penne pasta
2 oz. finely grated Parmigiano-Reggiano (2 cups using a rasp grater)
Bring a large pot of well-salted water to a boil.
Meanwhile, cook the oil and garlic in a heavy-duty 12-inch skillet over medium heat, stirring occasionally with a slotted spoon, until the garlic is golden, 3 to 5 minutes. Transfer the garlic to paper towels to drain.
Add the pine nuts to the skillet and cook, stirring frequently, until golden, about 1 minute. Transfer to the paper towels with the garlic.
Add the greens to the skillet and cook, stirring, until wilted, 1 to 2 minutes. Add shrimp, stir in the vinegar and season to taste with salt and pepper. Keep warm over low heat.
Boil the pasta according to package directions. Reserve 1 cup of the pasta cooking water and drain. Add the pasta to the skillet and toss with the greens. Add the garlic, pine nuts, and half of the cheese, and toss to combine, adding some of the pasta cooking water to moisten, if necessary.
Dandelion Greens with Pine Nuts & Cherries
A Vegetarian Delight!
Ingredients
1 pound washed dandelion greens, chopped into 2-inch pieces
½ teaspoon Himalayan Pink salt
cracked black pepper to taste
2 tablespoons coconut oil
3 cloves garlic, thinly sliced and chopped
½ cup pine nuts, toasted
¼ cup dried cherries, cut in half
1 tsp lemon juice
1 tablespoon water
Instructions
First, start by toasting your pine nuts. To do this, place a heavy bottomed saute pan over medium-heat until hot. Add the pine nuts to the pan, and dry saute for several minutes until toasted and golden in color. Remember to swirl the pan and flip the pine nuts over often so that they don't burn and so that they color evenly. Then remove the pine nuts from the pan and set aside.
Return the pan to the heat and melt the coconut oil. Add the dandelion greens and season with salt and pepper. Allow the greens to begin to wilt, cooking uncovered, for about 5 minutes, stirring occasionally so that they wilt evenly.
Add the garlic and cook for another 5 minutes, again stirring once in a while so that the garlic cooks evenly. Add cherries, water, and lemon juice, and cook for a few more minutes until the cherries are soft and the water is absorbed. Toss with the pine nuts and serve hot.
Apple Hemp Gluten-Free Muffins
Moist, lightly spiced muffins with hemp seeds
1 1⁄2 cups whole-grain spelt flour
1 cup oat flour
2/3 – 3/4 cup hemp seeds
2 tsp baking powder
1 tsp baking soda
1⁄4 tsp sea salt
1 1/2 – 1 3/4 tsp cinnamon
1⁄4 tsp ground cardamom (can substitute freshly grated nutmeg)
1 cup unsweetened organic applesauce
1⁄2 cup pure maple syrup
3⁄4 cup plain or vanilla non-dairy milk
1 1/2 tsp pure vanilla extract
1/3 cup raisins or chopped raw banana spears
Preheat oven to 350°F (176°C). In a large bowl, combine the dry ingredients, sifting in the baking powder and baking soda. Stir through until well combined. In another bowl, combine applesauce, maple syrup, non-dairy milk, and vanilla, and mix together.
Add the wet mixture to the dry mixture, and gently fold and mix through, until just combined (do not overmix). Spoon the mixture into a muffin pan lined with cupcake liners (this will fill 12 muffins quite full).
Bake for 21-23 minutes, or until a toothpick inserted in the center comes out clean.
Jicama Broccoli Salad
Sweet, Spicy & Crunchy Too!
12 oz. broccoli flowerets, cut into small same-size pieces (4 heaping cups broccoli flowerets
1 medium-sized jicama, cut into strips about 1/2 inch wide (2 cups diced jicama)
1/2 red bell pepper (or more) cut into thin slivers
1 T black or white sesame seeds, preferably toasted

Dressing:
1 T soy sauce
3 T rice vinegar
1 T chili garlic sauce, Sriracha Rooster Sauce, or Thai Chili Garlic Paste (or more if you like it spicy)
1/2 tsp. garlic puree (from a jar)
1/2 tsp. ginger puree (from a jar)
2 tsp. sesame oil
1 T Splenda or sugar (use Splenda for South Beach Diet)
pinch of sea salt
2 T peanut oil (or other neutral-flavored oil)

In a small bowl or glass measuring cup combine the soy sauce, rice vinegar, chili garlic sauce, garlic puree, ginger puree, sesame oil, Splenda or sugar, and sea salt. Whisk in the peanut oil and let dressing sit while you prep the vegetables.

Cut broccoli into small same-size flowerets until you have 4 heaping cups of broccoli flowerets. (To cut broccoli without getting a mess, cut part-way through the stem and them pull the broccoli apart.) You can blanch the broccoli in boiling water for a minute and then drain well if you like, but I tried it both ways and I preferred the broccoli to be raw for this salad.

Peel jicama and cut into slices about 1/2 inch thick, then cut each slice into strips about as long as the broccoli pieces. Cut red bell pepper into thin slivers.

Put the broccoli flowerets, jicama strips, and red bell pepper slivers into a medium-sized bowl and toss with the dressing. Toast sesame seeds in a dry pan over high heat for 1-2 minutes (just until they start to get fragrant.) Toss salad with sesame seeds and serve.
Jicama Slaw
Enjoy Jicama Slaw as a refreshing change from, or in addition to the traditional cabbage slaws.
Ingredients
1 large jicama, peeled and finely shredded
1/2 Napa cabbage, finely shredded
2 carrots, shredded
1/2 cup freshly squeezed lime juice
2 tablespoons rice vinegar
2 tablespoons ancho chili powder (Bobby Flay's Favorite)
2 tablespoons honey
1/2 cup canola oil
Salt and freshly ground black pepper
1/4 cup finely chopped cilantro leaves
Directions
Place jicama, cabbage, and carrots in a large bowl. Whisk together the lime juice, vinegar, ancho powder, honey, and oil in a medium bowl. Season with salt and pepper, to taste. Pour the dressing over the jicama mixture and toss to coat well. Fold in the cilantro. Let stand at room temperature for 15 minutes before serving.
Southern Jack Chicken Quarters
This Southern Recipe is easy with Southern Jack Grilling Spice
Ingredients:
4 chicken leg quarters
Southern Jack Grilling Spice
Method:
Rub the dry mix on the legs and grill to perfection.
Jicama Shrimp Cocktail
¾ pound medium shrimp, peeled & deveined, poached & cut into big chunks
1 small Haas avocado, diced large
¼ cup jicama, diced kinda small
¼ cup simple mild salsa
¼ cup Heinz chili sauce
¼ cup ketchup
juice of one large lime
2 tablespoons minced cilantro
2 tablespoons water
1 tablespoon worchestershire
1 tablespoon Mexican hot sauce, like Tapatio, Valentina, or Cholula
½ teaspoon kosher salt
cracked pepper to taste
Mix all the above ingredients and put in the fridge for at least an hour. If you want heat add two fresh jalapenos or serrano chilies, chopped up. Serve with tortilla chips or saltines.
Asparagus Pasta
Grill the Asparagus for big bold flavor!
Ingredients:
2 (16-ounce) packages mini penne 
1/2 cup leek (white part only), thinly sliced
1-1/2 cups curly parsley, packed
1 cup whole walnuts
1/8 teaspoon black pepper, freshly ground
2 teaspoons garlic, minced
1/2 cup olive oil, as needed
2 tablespoons walnut oil
1-1/2 tablespoons lemon juice
1-1/2 teaspoons salt
1 teaspoon green peppercorns
2 tablespoons capers
1 bunch baby green asparagus
For the walnuts: To release all the flavor and oil of the nuts, roast the walnuts in the oven for about 10 minutes at 325°F before using them. Chop the nuts. Grind the roasted walnuts in a food processor or spice grinder. Make sure you stop before it turns into walnut butter. Set aside.
For the curly parsley: Wash the parsley (stems included, because that's where the flavor is the most potent). Quickly blanch it for about 5-10 seconds in boiling salted water and transfer to an ice bath, to maintain a bright green color. Drain thoroughly of all water and pat dry on paper towels. Coarsely chop the parsley.
For the parsley-walnut pesto: In a blender (or a mini-food prep if you have one), mix the parsley, ground walnuts, 3 tablespoons of olive oil, the walnut oil, garlic, 1/3 teaspoon of salt and 1/8 teaspoon of black pepper. Add about 2 tablespoons (or more) of water for a smooth flow. Set aside.
For the mini penne pasta: Bring about 8 quarts of water to a boil. Add the pasta, bring back to a boil, then immediately lower the heat to a gentle boil. That way the pasta is cooked all the way through evenly. Cook the pasta for about 12 minutes total. Salt (with 2/3 teaspoon) the water half-way through the cooking process (it will bring out the natural flavor of the pasta and the pasta will be more tender) and keep stirring every now and then so the pasta doesn't stick to the bottom. It may take longer than the cooking time that's written on the box. When the pasta is cooked (cooked inside and out but still in shape and firm), transfer it to a large flat platter. Add the lemon juice. Season with the 1/3 teaspoon of salt.
For the asparagus: Trim about 1/2 inch from the root. Cut the asparagus into 2-inch pieces. In a large pot, add the remaining olive oil. Add the leeks and cook them until golden. Add the asparagus and sauté for about 2-3 minutes. Season with salt and green peppercorns. Or, for a more bold flavor, grill the asparagus. Transfer to a platter. Set aside.
Assembly time: In the same pot, add the cooked penne pasta. Add a little more oil if necessary. Add about 5-6 tablespoons of the parsley-walnut pesto. Toss well. Add the sautéed asparagus and capers.
Shrimp Tacos
The Perfect Summertime Snack!
Chili Shrimp:
1 1/2 pounds large shrimp, completely peeled and de-veined
3/4 teaspoon chili powder
1/2 teaspoon ground coriander
1/2 teaspoon ground cumin
Kosher salt

Avocado Crema:
2 ripe Hass avocados, peeled and pitted
2 tablespoons sour cream (light is fine)
Juice of 1/2 a lime
1/4 teaspoon ground coriander
Kosher salt

Grape Tomato-Jicama Salsa:
1 pint grape tomatoes, halved lengthwise
1/2 cup finely diced jicama
2 teaspoons fresh lime juice
1 teaspoon extra-virgin olive oil
Kosher salt
Freshly ground black pepper

For serving:
16 warm corn tortillas, preferably homemade
1 1/2 to 2 cups thinly sliced red cabbage
Lime wedges

For the shrimp: In a bowl mix together the shrimp with the seasonings. Cover and refrigerate for up to a few hours until ready to cook.

For the avocado crema: Add the avocados, sour cream, and lime juice to the bowl of a small food processor and puree until smooth. Season with the coriander and salt to taste and mix again until smooth. Transfer to a small bowl and press plastic wrap against the surface to help prevent oxidization (the lime juice will help too). Refrigerate until ready to assemble tacos.

For the salsa: In a bowl combine the grape tomatoes, jicama, lime juice, and olive oil. Season with salt and pepper to taste, cover and refrigerate for at least 30 minutes to allow flavors to develop.
Castelfranco Salad
Creamy Roquefort Dressing & Sweet Cipollini Onions Make the Salad!
Ingredients
Hardly correct to pair a Venetian salad with a French cheese, but no blue cheese tastes quite like Roquefort in a salad. If using a richer and creamier blue, it may be necessary to up both the salt and the vinegar in the dressing. Apples will work in place of pears. Serves four to six.
1 large head Castelfranco lettuce
3 large ripe pears or orange slices
1 lemon, juiced
150g Roquefort cheese
½ tsp sea salt
½ tsp coarsely milled black pepper
1 tbs red wine vinegar
4 tbs best olive oil
● Split the Castelfranco in half down through the root and split in half again. Cut away the root and stalk holding the leaves together and then cut each segment in half again to produce a lot of bite-sized pieces. Wash in a large bowl of very cold water and then spin-dry before filling a large salad bowl.
● Peel the pears and roll them in the lemon juice. Halve the pears and scoop out the cores with a teaspoon, then slice them not too thinly and return them to the lemon juice. Cut the Roquefort as best you can and distribute over the salad in the bowl.
● Whisk together the salt, pepper and vinegar in a bowl until the salt is dissolved and then add the olive oil. Drain the pears of their lemon juice and distribute on top of the salad. Pour over the dressing and toss the salad at the table. Taste the leaves – they may need more seasoning or a bit more oil for lubrication.
Grilled Shrimp Margarita
Just add the Margarita Mix, Grill and Serve!
Ingredients:
1 Jicama
1 Red Onion
1 Red Bell Pepper
1 Yellow Bell Pepper
1 Seedless Orange
1 Green Onion
1 Tbls Rice Wine Vinegar
1 Tbls Lime Zest
Margarita Spice Mix
1 lb peeled and de-vained shrimp
Julienne your jicama, red onion, red and yellow bell peppers.  Chop your green onion.  Peel and dice your orange.  Place those and ingredients and all the rest into a bowl and toss.
Rinse and toss your shrimp in Margarita Marinade Mix,  Skewer your shrimp and green bell pepper chunks and grill.  Serve on top of your jicama with lime zest.
Roasted Cipollini Onions
Add root vegetables for more delicious fun!
1 1/2 pounds cipollini onions
1/4 cup extra-virgin olive oil
1 tablespoon thyme leaves
1 teaspoon sugar
1/4 cup plus 2 tablespoons sherry vinegar
Salt and freshly ground pepper
Preheat the oven to 425°. In a large pot of boiling, salted water, cook the cipollini until just tender, about 3 minutes. Drain and cool under cold running water. Trim and peel the onions and pat dry.
Transfer the onions to a large ovenproof skillet and stir in the olive oil, thyme leaves, sugar and 1/4 cup of the sherry vinegar. Bring to a simmer over moderate heat. Cover the skillet with foil and roast the onions in the upper third of the oven for about 20 minutes, until soft. Remove the foil and roast the onions for about 10 minutes, basting a few times with the juices, until lightly glazed.
Transfer the skillet to the stove. Add the remaining 2 tablespoons of sherry vinegar and stir over moderate heat until the onions are richly glazed, about 2 minutes. Season with salt and plenty of pepper and serve.
Pasta & Kale Pesto
It's the best Pesto you ever made!
Beans and shells
1 1/4 cups dried white beans (or two 15-ounce cans of beans)
2 cloves garlic, peeled and left whole
3 teaspoons salt, plus more to taste
One 12-ounce box jumbo pasta shells
3/4 to 1 cup kale pesto
Zest of 2 lemons
Freshly ground black pepper
Kale pesto
4 cups water
1 to 1 1/2 teaspoons salt
4 cups lacinato (aka dinosaur or Tuscan) kale, stemmed and coarsely chopped
1/4 cup unsalted walnuts, chopped
2 cloves garlic, minced
1 1/2 cup olive oil
Freshly ground black pepper
Preparing the beans
1. If not using canned beans, place the uncooked beans in a bowl, cover them with about 3 inches of water and soak them for at least 4 hours.
2. Drain the beans and transfer them to a medium or large pot fitted with a lid, and cover the beans with at least 6 cups of water. (You're looking for a few inches of water above the beans.) Add the garlic and bring the water to a boil. Cook the beans at a hard boil for 5 minutes. Cover, lower the heat and continue cooking the beans at a gentle simmer.
3. At minute 20, stir in 1 teaspoon of the salt.
4. At minute 45, check the beans for doneness. Cook in 10-minute increments until the beans are tender to the bite, keeping in mind that cooking times may vary, depending on the age of the beans.
5. Transfer the beans to a bowl, along with about half the cooking liquid.
Preparing the pesto and the shells
6. Meanwhile, bring 4 cups of water to a boil in a medium pot, add 1 teaspoon of salt and add the kale.
7. Cook the kale uncovered until it is tender, about 10 minutes. Drain the kale under cold running water. With your hands, squeeze as much water out of the kale as possible; you'll end up with a green ball about the size of a tennis ball.
8. In a blender or food processor, combine the walnuts and garlic, and whiz until pulverized and well-mixed.
9. Add the kale and process the mixture until it is well-blended; it may even look a little dry. Pour in the oil and blend some more. The mixture should be glistening and will have a consistency that is somewhat textured, somewhat loose.
10. Salt to taste, transfer the pesto into a small bowl, and stir in the black pepper.
11. To cook the shells, bring 6 cups of water to a boil in a medium or large pot fitted with a lid, and add the remaining 2 teaspoons of salt. Cook the shells for 14 minutes at a moderate boil. Turn off the heat, cover the pot and let the shells cook passively for 7 minutes.
Assembly
12. Remove the shells from the water with a slotted spoon or a pair of tongs, checking for lingering water, and transfer them to a medium bowl.
13. Add 1/2 cup of the kale pesto and gently stir to completely coat the shells. Sprinkle the shells with half of the lemon zest and black pepper, to your liking.
14. When ready to serve, gently heat the beans over low heat in a saucepan or in a microwave.
15. Place five or six shells on each plate (or in shallow bowls), and top each serving of shells with 1/2 cup of beans, followed by 2 tablespoons of pesto and a sprinkling of lemon zest. Serve hot.
You can use canned beans instead of dried beans, but dried beans are preferable because their texture is so much meatier and they sop up the pesto a lot better than their canned counterparts.

In warmer climates, soak the beans in the refrigerator to avoid sprouting or fermentation.

You can make both the pesto and beans in advance, and then make the shells just before you're ready to sit down.

When shells are boiled, then passively cooked off the heat in their cooking water, they turn out tender without tearing—a perfect centerpiece for the pesto and white beans. (Do this rather than following the cooking instructions on the pasta package, which are specifically designed for baked stuffed shells.)

To prepare the kale, grab the thick fibrous stem running through the middle and simply pull off the leafy part. You can also run a knife along the middle and trim the leaf away from the stem.
Roasted Brussel Sprouts & Cipollini Onions
Ingredients:
3 (¼-inch thick) slices Smoked Bacon, cut into batons (optional)
10 large Brussels Sprouts (2.5"), trimmed, outer leaves reserved
5 Cippolini Onions
1 Tbsp. Extra Virgin Olive Oil
1 Tbsp. Dijon
2 tsp. Sherry Vinegar
Technique:
•Bring a large pot of salted water to a boil and, one after the other, blanche the Brussels sprouts, then onions for 2 ½ minutes each and chill in ice water.  Peel onions; cut the vegetables in half and drain on paper towels.
For a nice presentation, blanche the outer leaves for 30 seconds and chill in ice water.  Add at the end with a sprinkle of salt & pepper.

•Heat a large sauté pan on medium heat for 30 seconds and add the bacon.  Allow it to brown before stirring (about a minute); cook all sides and transfer to a dish, reserving the grease in the pan.
Kale & Florida Avocado Salad
Kale Salad with grapefruit dressing is a perfect pairing!
Ingredients:
3 cups kale leaves, shredded
1 avocado, sliced
1 pink grapefruit, sectioned
2 tablespoons toasted sunflower seeds
1 tablespoon fresh-squeezed grapefruit juice
2 tablespoons fresh-squeezed orange juice
1 clove garlic, minced
1/2 cup olive oil
Salt
Fresh ground pepper
What to Do: 
First, make the vinaigrette: Combine grapefruit juice, orange juice, garlic, salt and pepper in a small bowl. Let stand for 10 minutes, then slowly whisk in the olive oil. Set aside.
Place kale in a large bowl and drizzle with a small amount of vinaigrette or olive oil. Massage the kale with the olive oil or dressing for a few minutes, or until the leaves begin to break down a bit and become more tender.
Arrange a bed of kale on each plate. Top with grapefruit and avocado slices. Sprinkle with sunflower seeds and drizzle with vinaigrette.
Potato Leek Soup
It's creamy & delicious
INGREDIENTS
2 tablespoons neutral oil, such as canola or grapeseed oil
4 to 5 medium russet potatoes (1 pound), peeled and roughly chopped
3 large leeks (1 pound), cleaned and thinly sliced
6 cups vegetable stock (or light chicken stock)
Kosher salt, to taste
1 to 2 tablespoons freshly squeezed lemon juice
1/2 cup heavy cream
1/2 cup crème fraiche
1/3 cup minced parsley or chives
DIRECTIONS
Heat the oil in a large (6-plus quart) stockpot or dutch oven over medium heat. Add the leek and potato. Cook, stirring occasionally, until the vegetables have begun to soften and brown slightly, about 8 to 12 minutes (this time will vary greatly depending on the surface area of the bottom of your pot).
Add the vegetable stock, and bring to a boil. Reduce the heat to low, and simmer for 30 to 40 minutes, or until the vegetables are tender.
Blend until smooth, either using an immersion blender or by carefully transferring to a blender in batches.
Add the cream, and season to taste with salt (I start with 1 teaspoon and go from there, tasting frequently) and lemon juice.
Ladle into bowls, and garnish with a dollop of crème fraiche and a healthy sprinkling of minced parsley.
Pan Seared Golden Tilefish
Golden Tilefish is a deepwater treat. Try it whenever available!
1 tablespoon butter or vegetable oil
1/3 cup shallots, chopped
2 heaping tablespoons very thinly sliced kumquats
1/3 cup white wine
1/2 cup mirin
juice from 1/2 lemon
pinch of salt
1 1/2 pounds tilefish fillets
flour for dredging fish fillets
3 tablespoons butter or vegetable oil
pomegranate seeds for garnish
Instructions:
Kumquat-Shallot Glaze is a light and delicate sauce that goes well with mild tilefish or sole. For a full meal, add a light grain such as couscous pilaf and perhaps sauteed greens or peapods.
Heat butter or oil in a skillet. Saute shallots for 3 minutes over medium heat. Add kumquats, wine, mirin, lemon juice, and salt. Cook over a high flame for a few minutes until it reaches a glazelike consistency.
Dredge the fish fillets in flour, and saute in 3 tablespoons butter or oil over medium-high heat.
Serve glaze over sauteed fish, and garnish with pomegranate seeds.
Kale & Avocado Salad
Try three or four different kinds of kale in your salad!
6-8 ounces of kale
6-8 dried apricots
1/3 or so cup cooked beans
1/4 or so cup almonds
8-10 flakes of Parmesan cheese (Vegans exclude cheese)
1 tablespoon extra-virgin olive oil
2 tablespoons red wine vinegar
1/2 avocado
salt and pepper
Fold a piece of kale in half lengthwise and use your fingers to tear out the tough inner stem. Repeat with the other leaves of kale. Tear all the leaves into bite-sized pieces and put them in a medium-sized mixing bowl.
Cut the apricots into little bits and add them to the bowl with the kale, along with the beans, the almonds, and the cheese. Whisk together the oil and vinegar. Pour the vinaigrette and a healthy pinch of salt over the salad and use your fingers to toss and rub everything together.
Butternut Squash Lasagna
A nearly Vegan treat!
Cooking spray
3 cups chopped onion
10 cup fresh spinach
3/4 cup (3 ounces) shredded sharp provolone cheese
1/2 cup chopped fresh flat-leaf parsley
1 teaspoon salt
1/2 teaspoon freshly ground black pepper
2 large eggs
1 (15-ounce) carton part-skim ricotta cheese
1 (15-ounce) carton fat-free ricotta cheese
3 cups diced peeled butternut squash
6 cups Smoky Marinara
12 oven-ready lasagna noodles (such as Barilla)
1 cup (4 ounces) grated fresh Parmesan cheese
Preheat oven to 375°. Heat a large Dutch oven coated with cooking spray over medium-high heat. Add onion; sauté 4 minutes or until tender. Add spinach; sauté 1 1/2 minutes or until spinach wilts. Combine provolone, parsley, salt, pepper, eggs, and ricotta cheeses in a large bowl. Place squash in a microwave-safe bowl. Cover and cook on high 5 minutes or until tender. Coat the bottom and sides of 2 (8-inch-square) baking dishes with cooking spray. Spread 1/2 cup Smoky Marinara in the bottom of one prepared dish. Arrange 2 noodles over sauce; spread 1 cup cheese mixture over noodles. Arrange 1 1/2 cups squash over cheese mixture; spread 3/4 cup sauce over squash. Arrange 2 noodles over sauce; spread 1 cup cheese mixture over the noodles. Arrange 1 1/2 cups onion mixture over cheese mixture; spread 3/4 cup sauce over spinach mixture. Arrange 2 noodles over sauce; spread 1 cup Smoky Marinara evenly over noodles. Sprinkle with 1/2 cup Parmesan. Repeat procedure with remaining ingredients in remaining pan. Cover each pan with foil. Bake at 375° for 30 minutes. Uncover and bake an additional 30 minutes. To freeze unbaked lasagna: Prepare through Step 6. Cover with plastic wrap, pressing to remove as much air as possible. Wrap with heavy-duty foil. Store in freezer for up to 2 months. To prepare frozen unbaked lasagna: Thaw completely in refrigerator (about 24 hours). Preheat oven to 375º. Remove foil; reserve foil. Remove plastic wrap; discard wrap. Cover lasagna with reserved foil; bake at 375º for 1 hour. Uncover and bake an additional 30 minutes or until bubbly.
CRUCIFEROUS CURRY
Cruciferous Curry is a hearty feel good food without meat!
Ingredients: 1 tablespoon organic coconut oil 1 shallot or ½ onion 3 cloves garlic 5 slices fresh organic ginger root (it keeps well frozen, and you can shave it easily) 1 can organic whole coconut milk (not reduced fat) 2 tablespoons curry powder 2 cups Brussel sprouts – split or quartered 1 bunch kale – washed and chopped 1 cauliflower – split in 8 pieces 6 collard or turnip top green leaves – washed and chopped 6 mini sweet peppers or 1 bell pepper 2 tomatoes (optional) ½ cup chopped cilantro or basil (garnish) 1/4 cup raw cashews (optional)
Directions: Saute the onion, shallot, garlic and ginger with the coconut oil.  Add the veggies to the pot. In a bowl, wisk the curry powder with the can of coconut milk & pour over the veggies.  Bring to a boil, turn down  and let simmer for 10 minutes. Garnish with cilantro and serve.
Sugar Snap Peas Stir Fry Recipe:
Organic Food Recipes
Cucumber Salad Video Recipe:
Korean Cucumber Salad:
Salmon & Cucumber Yoghurt Recipe Video:
Sprouting Beans or Lentils Video:
Sprouted Hummus Recipe
Raspberry Kale Smoothie Video Recipe
Garlic Sesame Kale Recipe Video:
Crispy Kale Recipe Video Makes A Great Snack!:
Salmon & Spicy Cucumber Pineapple Salsa Recipe Video:
Organic Produce Buying Club & Weekly Organic Food Delivery Store