Florida Organic Produce Delivery
Buying Club Food Share: 
It's that time when we make our Pink Lady Apples Donation!  Help us support The Annie Appleseed Project!
With every bag of Pink Lady Apples that members of My Organic Food Club get in their baskets in the month of March, a donation will be made to The Annie Appleseed Project. This Florida based all-volunteer nonprofit organization exists solely to help those with cancer.  What started as a personal search for answers from the founder has turned into a valuable resource for thousands. Our produce club is proud to be helping this special organization that has enriched and saved many lives.  Please support The Annie Appleseed Project by participating in your March produce order and receiving delicious Pink Lady Apples in your veggie box!
Organic Produce Delivery
Blood oranges may look like regular oranges on the outside, but their inner flesh ranges from rosy-red to a deep burgundy purple. Their flavor is less acidic than a regular orange with light raspberry notes.  Some people believe that blood oranges are crosses between pomegranates and oranges, but this is untrue. Blood oranges are simply oranges that at some point turned into the noble, virile fruits that you see today. The fruit is smaller than an average orange; its skin is usually pitted, but can be smooth. The distinctive dark flesh color is due to the presence of anthocyanins, a family of antioxidant pigments common to many flowers and fruit, but uncommon in citrus fruits. The flesh develops its characteristic maroon color when the fruit develops with low temperatures during the night.
| | |
| --- | --- |
|  Organic Produce Delivery List for the week of March, 04-08 2013: | |
* Lettuce Green Leaf (Fl)
* Brussels Sprout
* Green Cabbage (Fl)
* Arugula (Fl)
* Avocado Hass
* Pepper Sweet Colored (Fl)
* Onion Green (Fl)
* Potato Red
* Zucchini Squash(Fl)
* Eggplant (Fl)
* Mushrooms White (Fl)
* Parsley Italian Flat Leaf
* Tomatoes Beefsteak
* Strawberries (Fl)
* Apples Pink Lady
* Oranges Blood (Fl)
* Blueberries
* Mango Kent
* Grapefruit Ruby
Brussels sprouts are a cultivar of the same species that includes cabbage, collard greens, broccoli, kale, and kohlrabi; they arecruciferous (they belong to the Brassicaceae family; old name Cruciferae). They contain good amounts of vitamin A, vitamin C, folic acidand dietary fiber. Moreover, they are believed to protect against colon cancer, because they contain sinigrin.[5] Although they contain compounds such as goitrin that can act as goitrogens and interfere with thyroid hormone production, realistic amounts in the diet do not seem to have any effect on the function of the thyroid gland in humans.
Organic Produce Delivery Recipes
Roasted Brussels Sprouts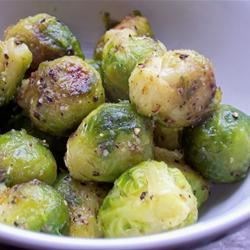 Ingredients:
1 1/2 pounds Brussels sprouts, ends trimmed and yellow leaves removed
3 tablespoons olive oil
1 teaspoon salt
1/2 teaspoon freshly ground black pepper
Directions:
Preheat oven to 400 degrees F (205 degrees C).
Place trimmed Brussels sprouts, olive oil,  salt, and pepper in a large resealable plastic bag. Seal tightly, and shake to coat. Pour onto a baking sheet, and place on center oven rack.
Roast in the preheated oven for 30 to 45 minutes, shaking pan every 5 to 7 minutes for even browning. Reduce heat when necessary to prevent burning. Brussels sprouts should be darkest brown, almost black, when done. Adjust seasoning with kosher salt, if necessary. Serve immediately.
Organic Produce Delivery
Brussels Sprout Salad

Ingredients
For the Dressing:
3/4 cup vegetable oil
1/4 cup extra-virgin olive oil
1 tablespoon honey
2 tablespoons champagne vinegar
1 1/2 teaspoons fresh lemon juice
1/4 teaspoon grated lemon zest
1 teaspoon whole-grain mustard
1/2 small clove garlic, minced
Kosher salt and freshly ground pepper
For the Salad:
1/2 pound Brussels sprouts, leaves only (3 1/2 cups leaves)
1 tablespoon dried blueberries
2 tablespoons dried cranberries
2 tablespoons smoked almonds
1/2 ounce manchego cheese, shaved
Bagel chips, for serving (optional)
Directions
Make the dressing: Whisk the vegetable oil and olive oil in a small bowl. In a large bowl, whisk the honey, vinegar, lemon juice, lemon zest, mustard, garlic, 1/2 teaspoon salt and a pinch of pepper.
Slowly whisk the oil mixture into the vinegar mixture until combined. Refrigerate at least 1 hour; store in an airtight container up to 1 week.
Make the salad: Toss the Brussels sprout leaves, dried blueberries and cranberries, almonds and 1/4 cup dressing in a large bowl. Pile the salad onto a plate. Top with the manchego and season with pepper. Serve with bagel chips, if desired.
Shaved Brussels Sprout and Kale Slaw with Pecorino and Toasted Hazelnuts
Ingredients:
1/2 cup skinless hazelnuts
8 ounces Brussels sprouts
1 small bunch kale (about 4 cups lightly packed leaves)
1 small Granny Smith or Pink Lady apple
6 tablespoons olive oil
3 tablespoons champagne vinegar
1/2 teaspoon Dijon mustard
Kosher salt and freshly cracked black pepper
1/3 cup grated Pecorino
Directions:
Preheat the oven to 375 degrees F.Roughly chop the hazelnuts, and then spread them out on a sheet pan and roast in the oven until golden, 5 to 7 minutes.Wash and pat dry the Brussels sprouts and kale. Cut the Brussels sprouts in half lengthwise, through the stem. Using a sharp knife or mandoline, finely slice the Brussels sprouts crosswise to give you fine ribbons. Remove the tough stems from the kale leaves and discard. Stack the leaves up on top of one another and cut across the stem so it yields a similar shape to the shaved Brussels sprouts. Cut the sides of the apple off and cut into thin slices.To make the vinaigrette, combine the olive oil, champagne vinegar, Dijon mustard and some salt and pepper in a bowl, whisking together until lightly emulsified. To serve, mix the Brussels sprouts, kale and apple together well in a large salad bowl. Lightly dress with the champagne vinaigrette, and then top with shaved Pecorino and chopped toasted hazelnuts.
Oregano Brussels Sprouts
To make a meal of this, serve over farro, quinoa, rice, or on top of a frittata. Use leftover oregano drizzle over everything from roasted squash, frittatas, baked potatoes, or with a good amount of fresh lemon juice, as a salad vinaigrette.
24 small brussels sprouts (less if you can only find larger sprouts)
extra virgin olive oil
fine grain sea salt

Oregano Drizzle
3/4 cup extra-virgin olive oil
1/4 cup fresh oregano, chopped
1/4 cup fresh parsley, chopped
1 large garlic clove
1/4 teaspoon fine grain sea salt, plus more to taste.
1 tablespoon extra-virgin olive oil, plus more for rubbing

a big handful of toasted almond slices
Curried Brussels Sprouts
SERVES 4
INGREDIENTS
3 tbsp. olive oil
1 lb. Brussels sprouts, outer leaves removed and halved lengthwise
¼ tsp. black mustard seeds
¼ tsp. whole cumin seeds
1/8 tsp. ground cumin
1/8 tsp. ground chile powder
¼ tsp. ground turmeric
1 bay leaf
1/8 tsp. ground garam masala powder
1/8 tsp. ground coriander
4 cloves garlic, minced
1 2″ piece ginger, minced
1 medium red onion, chopped
1 ripe tomato, chopped
2 tsp. kosher salt
2 tbsp. cilantro, chopped
INSTRUCTIONS
1. Heat 1 tbsp. olive oil on high in a medium skillet. Add Brussels sprouts, cut side down. Turn the heat down to medium and let the sprouts brown, 5 minutes. Take the sprouts off the heat, remove from pan and let cool.
2. Heat 1 tbsp. olive oil in the same skillet, toss in the whole cumin seeds and the mustard seeds till fragrant, 20 seconds. Stir in the remaining spices and heat for another five seconds. Add the garlic, ginger, and onion and cook on medium high heat, stirring occasionally till translucent, 6 minutes. Add the tomatoes and cook on medium high heat till the onions start to caramelize and the tomatoes are reduced, 7 minutes. Add the remaining olive oil and stir. Add the browned Brussels sprouts and season with salt. Let cook 1 minute. Remove from heat, top with the chopped cilantro and serve warm.
Crunchy Brussels Sprouts

I never used to like brussels sprouts, until one day I had them when they weren't over-cooked. Still just a little bit crunchy, they had a wonderfully nutty flavor. Who knew brussels sprouts could taste so good? Now I love them, especially with brown rice and butter.
INGREDIENTS:
1 lb fresh brussels sprouts
4-6 Tbsp butter
1/2 onion, chopped
Salt and Pepper
1 teaspoon lemon juice or 1 Tbsp Meyer lemon juice, fresh squeezed
1/4 cup toasted slivered almonds
INSTRUCTIONS:
1 Remove any ragged or old-looking outer leaves on the brussels sprouts and discard. Parboil the brussels sprouts (or steam them) for 3 minutes or until just tender. They should be almost cooked all the way through (split one in half to test). Strain the hot water and place the sprouts in a bowl of ice water, this will keep their color bright green. Cut the sprouts into halves.
2 Heat 2-3 Tbsp of butter in a large sauté pan on medium heat. Add the onions and cook until translucent, about 4-5 minutes. Add 2-3 Tbsp more of butter and the brussels sprouts halves. Increase the heat to medium high and cook for several more minutes. Salt and pepper to taste, while the brussels sprouts are cooking. Do not overcook! Overcooked brussels sprouts are bitter and are the main reason why some people don't like them.
3 Remove the pan from the heat, stir in the lemon juice and half of the toasted almonds. Add salt and pepper to taste. Place in serving dish and garnish with the rest of the toasted almonds.
Serves 6-8.
Crunchy Sweet Brussels Sprout Salad
Ingredients
1 pound Brussels sprouts
2 tablespoons olive oil
1/2 teaspoon ground nutmeg
Kosher salt and freshly ground black pepper
1/2 cup chopped walnuts
1/2 cup dried cranberries
Directions
Shred the Brussels sprouts by removing the core and thinly slicing. Warm the olive oil in a large skillet over medium heat. Add the Brussels sprouts, nutmeg, and salt and pepper, to taste. Cook, stirring, until the Brussels sprouts are bright and slightly wilted, about 2 to 3 minutes. Add the walnuts and the cranberries and toss to combine. Turn out into a serving bowl and serve warm.
Golden-Crusted Brussels Sprouts Recipe
This is the only way to eat brussels sprouts: cut in half and cooked until deliciously tender inside and perfectly brown and crusted on the outside.
Use brussels sprouts that are on the small size and tightly closed. You can finish these with many different types of cheese but I tend to go for Parmesan when the weather is good. I trade that in for heavier cheeses like gruyere or Gouda in colder weather. I finished them off with some toasted hazelnuts the other night – delicious!
INGREDIENTS:
24 small brussels sprouts
1 tablespoon extra-virgin olive oil, plus more for rubbing
fine-grain sea salt and freshly ground black pepper
1/4 cup grated cheese of your choice
INSTRUCTIONS:
Wash the brussels sprouts well. Trim the stem ends and remove any raggy outer leaves. Cut in half from stem to top and gently rub each half with olive oil, keeping it intact (or if you are lazy just toss them in a bowl with a glug of olive oil).
Heat 1 tablespoon of olive oil in your largest skillet over medium heat. Don't overheat the skillet, or the outsides of the brussels sprouts will cook too quickly. Place the brussels sprouts in the pan flat side down (single-layer), sprinkle with a couple pinches of salt, cover, and cook for roughly 5 minutes; the bottoms of the sprouts should only show a hint of browning. Cut into or taste one of the sprouts to gauge whether they're tender throughout. If not, cover and cook for a few more minutes.
Once just tender, uncover, turn up the heat, and cook until the flat sides are deep brown and caramelized. Use a metal spatula to toss them once or twice to get some browning on the rounded side. Season with more salt, a few grinds of pepper, and a dusting of grated cheese. While you might be able to get away with keeping a platter of these warm in the oven for a few minutes, they are exponentially tastier if popped in your mouth immediately.
Serves 4.
Brussels Sprout Hash Recipe

INGREDIENTS:
I cup pearl onions (fresh or frozen)
1 1/2 lb brussels sprouts (thinly sliced)
Salt and Pepper to taste
Chicken Broth or White Wine
Honey
INSTRUCTIONS:
Thaw 1 cup frozen pearl onions and cook in a skillet with butter and honey until golden and glazed. Add 1 1/2 pounds thinly sliced brussels sprouts, season with salt and pepper and cook until crisp-tender. Finish with a splash of chicken broth or white wine and a drizzle of honey.
Roasted Potatoes, Carrots, Parsnips and Brussels Sprouts
INGREDIENTS:
1/3 cup extra-virgin olive oil
3 medium carrots (about 3/4 pound), cut into 1 1/2-inch thick circles
1 1/2 cups Brussels sprouts (about 1/2 pound), halved
4 cups red bliss potatoes (about 1 pound), cut into 1 1/2-inch thick slices
3 medium parsnips (about1 pound), cut into 1 1/2-inch thick slices
1 cup sweet potatoes (about 1 pound), cut into 1 1/2-inch thick slices
1 tablespoon dried oregano
1 tablespoon dried rosemary
1 teaspoon dried thyme
1 teaspoon dried basil
1/4 teaspoon sea salt
2 tablespoons freshly ground black pepper
INSTRUCTIONS:
Preheat oven to 400 degrees F.
Grease an 11 by 17-inch baking sheet pan with extra-virgin olive oil. Place vegetables in baking sheet and add the dried herbs, salt and pepper. Toss well, evenly coating all the vegetables with the seasonings and oil. Add more oil if the vegetables seem dry
Spread the vegetables evenly on a large baking sheet. Place on middle rack in oven and bake for 35 to 40 minutes.
Lemony Brussels Sprouts
INGREDIENTS:
1.    5  pounds Brussels sprouts, halved.
2.   1 teaspoon Grated lemon rind
3.   2 Tablespoons Fresh lemon juice.
4.   Salt to taste

5.   Coarsely ground pepper to taste
INSTRUCTIONS:
Slash the bottom of each Brussels sprout with a shallow X; steam Brussels sprouts, covered, for 6 minutes or until tender. Drain. Combine Brussels sprouts and next 3 ingredients in a bowl; toss well to coat. Sprinkle with pepper.
Serves 4
Brussels Sprouts With Ginger and Mustard Seeds 

INGREDIENTS:
5 tablespoons light olive oil
1 lb brussels sprouts, trimmed until all leaves are torn off
Salt
2 tablespoons chopped ginger
2 tablespoons mustard seeds
1 teaspoon hot red pepper
1 lime
INSTRUCTIONS:
1. Heat sauté pan over high heat. Add oil and brussels sprout leaves, and season with salt.
2. Toss and brown until tender. Add ginger, mustard seeds and hot red pepper. Toss and cook for a minute more. Simmer until completely tender, 1 to 3 minutes.
3. Add the juice of half a lime. Taste and adjust salt and lime. Serve.
Roasted Brussels Sprouts with Bacon and Browned Onions
Everyone loves brussels sprouts with bacon. Here's my version.
INGREDIENTS:
1 stalk brussels sprouts
1-2 tablespoons olive oil
1/4 pound bacon
1 large onion
INSTRUCTIONS:
Heat the oven to 425.  Strip the brussels sprouts off the stalk. Halve the Brussels sprouts lengthwise. Toss with a few tablespoons olive oil and some salt directly on a sheet pan. Peel your onions and slice them in half, then thinly crosswise. Slice the bacon into half inch pieces.
Roast the sprouts in the oven until lightly colored and crispy on their edges, about 40 minutes. Remove from the oven.
Heat a large skillet and cook the bacon until crisp. Remove with a slotted spoon and pour off all but a couple tablespoons of the fat. Add the sliced onions to the bacon fat in the skillet and sauté briskly until golden brown, about 10 minutes. Stir regularly to make sure they brown evenly. Remove from heat.
Combine the browned onions with the Brussels sprouts and the crisped bacon. Taste to make sure you like it, adjusting seasonings as necessary.
Roasted Brussels Sprouts & Butternut Squash with Taleggio Cheese
INGREDIENTS:
1-2 lb. Brussels Sprouts (cut in half and tough guard leaves removed)
1 Butternut Squash (peeled and medium diced)
¼ lb. melted Butter  (1 stick)
1 cup Vegetable or Chicken Stock
Lemon Juice (from one large or 2 small lemons)
1 Tablespoon chopped Chives
1 Tablespoon chopped Parsley
1 Tablespoon chopped Sage
¼ pound in small dice for easier melting (you can use fontina or   gouda instead) Taleggio Cheese
Salt and  Pepper to taste
INSTRUCTIONS:
1. Preheat oven to 350F
2. Toss the Brussels sprouts and half the sage with half of the melted butter
3. Toss the butternut squash and the other half of the sage and butter
4. Pour the Brussels sprouts onto a sheet pan and roast for fifteen minutes checking
regularly and tossing while in the oven to lightly caramelize
5. Pour the butternut squash onto a separate sheet pan and roast in a similar
fashion to lightly caramelize
6. Once caramelized remove from the oven and allow to cool
7. To finish the dish bring a large saucepan to medium heat on the stove
8. Add the squash and Brussels sprouts to the pan and gently stir to heat
9. After one minute add the vegetable stock to help the reheating
10. Once the mixture is hot add the cheese to melt over the mixture
11. Add the herbs and season to finish
Organic Produce Buying Club Weekly Food Share