Florida Organic Produce Delivery
Buying Club Food Share: 
 Chantenay Carrots
Chantenay carrots, botanical name Daucus carota, are a Western variety of carrots. Western carrot varieties are classified by their root shape and orange flesh, which is attributed to the tap roots containing high levels of carotenes. Young Chantenay carrots require no peeling, making them entirely edible while also requiring little prep time. They make a quintessential salad, crudite and soup ingredient. Chanteney carrots pair well with almonds, bacon, butter, radishes, hazelnuts, olive oil, cheeses, especially cheddar, parmesan and pecorino, cream, ginger, cardamon, potatoes, mushrooms, garlic, shallots, tomatoes, red wine and balsamic vinegar. Chantenay carrots will keep in cool, dry storage for up to a month. Scrub thoroughly when preparing. Never store fruit along with carrots. All fruit expels ethylene gas that is readily absorbed by carrots. Carrots exposed to ethylene turn very bitter making them unsuitable for eating.
Chervil Chantenay Carrots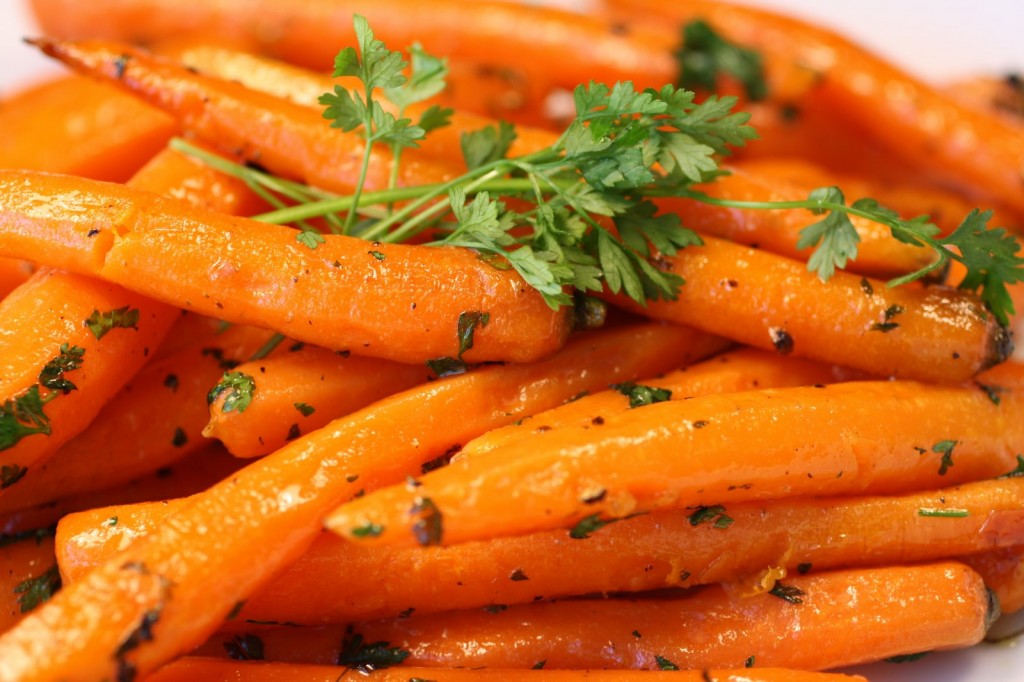 INGREDIENTS
1 pound/454 grams Chantenay carrots
1 tablespoon olive oil
2 tablespoons chopped fresh chervil, divided (substitute parsley if chervil is unavailable)
Salt
Pepper
1 teaspoon unsalted butter
PROCEDURE
Preheat the oven to 400 degrees F/205 degrees C.
Toss the carrots with the olive oil, 1 tablespoon chervil, and salt and pepper. Be somewhat liberal with the salt, to counteract the sweetness in the carrots. Spread the dressed carrots on a baking sheet, and roast for 20 minutes.
While still hot, toss with the remaining tablespoon of chervil, the butter, and a bit more salt and pepper. Serve!
Serves 4
Warm Organic Carrots with Puy Lentils and Summer Savoury
This dish is perfect to enjoy as a side with roast chicken or on it's own as a warm salad
Honey Nuts
1tbs olive oil
20g pecan nuts
15g sunflower seeds
15g pumpkin seeds
2tbs honey
Heat a medium non-stick frying pan, add the oil, pecan nuts and seeds.
Toast the seeds and nuts until hey start to take on a golden colour, reduce the heat and add the honey, stir continuously to prevent the nuts from burning.
Once you are happy with the colour transfer the honey nuts to a lined baking tray to cool them rapidly, set aside.
Organic Carrot and Puy Lentils
400g organic small carrots or Chantenay carrots will work well
100g cooked puy lentils
1 orange pepper
1 clove of garlic, crushed
1tbs chopped summer savoury
1tbs honey
1tbs extra virgin olive oil
5g fresh grated ginger
Juice and zest of half a orange
1tbs soy sauce
Salt and freshly cracked black pepper
1/2 tsp Nigella seeds or black onion or kalonji seeds
Wash the carrots, remove the green leaves but leave the long root, it looks pretty.Blanch the carrots in boiling salted water until tender, refresh in ice cold water.
Wash the pepper, cut in half, remove the seeds and cut the pepper into long strips.
Heat  a large non-stick frying pan add the oil, and on a moderate heat saute the sliced peppers, crushed garlic and blanched carrots for 3 to 4 minutes,season as required, add the drained cooked puy lentils and cook further for another 2 minutes.
Add the honey, juice and zest of orange, soy sauce and ginger, cook for a few minutes until the liquid thickens and starts to coat the carrots,this should not take longer than 2 minutes.
Transfer the cooked carrots to a serving dish, fold in the nigella seeds, toasted honey nuts and chopped summer savoury and serve.
Serves 4
| | |
| --- | --- |
|  Produce List for the week of January, 07-11 2013: | |
* Lettuce Green Leaf (Fl)
* Greens-Chard Bright Lights (Fl)
* Onion Leaks
* Radish Daikon
* Carrots Chantenay w/tops
* Cabbage Red (Fl)
* Cucumbers
* Zucchini Squash (Fl)
* Avocado (Fl)
* Tomato Slicer (Fl)
* Bok Choy (FL)
* Lemons
* Oranges Navel (Fl)
* Grapefruit White (Fl)
* Bananas