Florida Organic Produce Delivery
Buying Club Food Share: 
HAPPY HOLIDAYS!    
                  A tropical taste that is irresistibly good for you!
The Gold kiwi fruit is an edible berry. Its flavors are sweet and tropical with notes of pineapple and mango. The entire fruit is edible. Gold kiwis can replace green kiwis in any given recipe calling for kiwis. They will have less acid-forward flavor, though which should be considered if attempting to using an acidic fruit to cut the richness of fats in dairy or meats. Gold kiwis can lend themselves to preparations both sweet and savory, cold and warm in cold soups, decadent desserts including pies and ice creams, granitas and fruit tarts. Gold kiwis bring a tropical flavor to salads and cocktails. Gold kiwis pair well with acidic and creamy fruits alike such as passion fruits and bananas, bright herbs such as mint and cilantro, nuts such as cashews and macadamias, and mild fruits such as apples and cucumbers. Within savory preparations, Gold kiwi can enhance many ethnic foods from Asian to Latin. Gold kiwis stand up well to the richness of stewed meats, avocados, the boldness of peppery flavors, chutneys and the aged flavors of sheep's and goat' cheeses.
Gold Kiwifruit is a nutrition powerhouse fruit packed full of vitamins and nutrients – with high levels of Vitamin C and Vitamin E, Potassium, Folic Acid and Dietary Fibre. Gold Kiwifruit is also naturally low in fat and has a low GI (glycaemic index).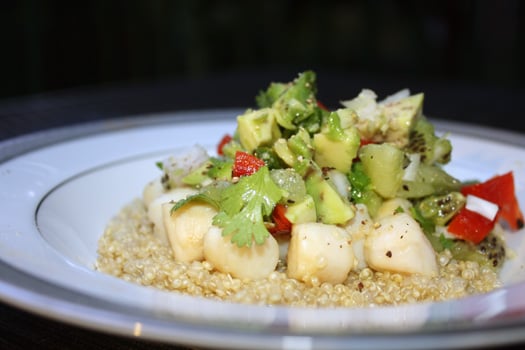 Avocado-Kiwi Salsa
Adapted from the Flat Belly Diet Cookbook
1 avocado, diced
2 kiwi, peeled and diced
1/2 small red onion, diced
1 small red bell pepper, diced
2 jalapenos, diced
juice of 1 lime
1 handful cilantro, chopped
salt and pepper
Gently combine all ingredients.
this is a recipe that is very simple to make and requires little more than chopping the ingredients. I really like the unexpected use of kiwi in the salsa – it lends a nice but unexpected citrus flavor to the dish. It also pairs with the jalapeno surprisingly well.
I served the salsa with bay scallops over quinoa. It doesn't seem like scallops and kiwi would go together, but the butteryness of the scallops made the dish seem very rich and paired well with the cool, tangy salsa. If you don't want shellfish though, I think this would pair well with almost anything – grilled chicken breast marinated in lime juice or a piece of flank steak would be fantastic.
In order to get a good sear on your scallops, you need them to be very dry – not packed in a brine and then dried even more with some paper towels before you cook them. The scallops I used here were frozen, so a good sear wasn't a possibility. In order to get a little bit of color on them, I dried them the best I could and dusted them with flour before frying them I a little oil. It wasn't perfect, but it did give me a little bit of delicious browned flour flavor.
| | |
| --- | --- |
|  Produce List for the week of January, 01-04 2013: | |
* Lettuce Romaine Green (Fl)
* Greens-Green Chard (Fl)
* Greens-Watercress (Fl)
* Potato Yukon Gold
* Carrots Bunny Juice
* Cabbage Green (Fl)
* Sugarsnap Peas 
* Zucchini Squash (Fl)
* Avocado Hass
* Tomato Slicer (Fl)
* Pepper Green (FL)
* Eggplant (Fl)
* Strawberries (Fl)
* Grapefruit White (Fl)
* Bananas